Gaming chairs for big guys are a difficult topic: most of today's gaming chairs are aimed at the 'average' gamer who should normally be around 5'11" (1.80m) tall with a weight of 176lbs (80kg). As you might know first-hand, not every gamer fits into that 'average' bracket any more. Some of us are shorter, weigh less – or bigger and weigh more. Some of us might even be very big guys that rather fit into the heavyweight category – which is all fine, but not when it comes to finding the right gaming chairs for big guys.
The problem is: you'll often see gaming chair on streams, esports events or LAN parties where you directly think: 'I need to get one!'. But when looking at the weight or height limits of these you'll always see the same: most of them are built to accomodate gamers up to 5'11' or 300 lbs, way below your own limits.
But don't give up yet: gaming chair companies like DXRacer or AKRacing also have something specifically for you! There are special gaming chairs for big guys out there, that are bigger and sturdier than their 'normal' counterparts. In this guide we'll show you the best gaming chair for big guys!
What do Gaming Chairs for Big Guys need?
More weight means more burden for a gaming chair. That's why you should always look for these features when buying a gaming chair for big guys:
Steel Framework
Regular chairs are very often made of hard plastic – which might be sufficient for regular gamers, but not for bigger guys. That's why you should always get a gaming chair with a steel framework which is for example used for DXRacer or AKRacing chairs.
Higher Back Rest
Regular office chairs have low back rests without any head support, while DXRacers for example have higher back rests and even additional pillows for your head. As these are not high enough for big guys, you need a gaming chair with a higher back rest.
Reinforced Base
All the weight of your gaming chair and you will lie on the chair's base. Normally, these are made out of hard nylon – but you should definitely get a gaming chair with an aluminum base.
Additional Padding
If you're a bit heavier, that also increases the weight on the chair's padding. That's why good gaming chairs for big guys need to have additional padding on the seat and back rest.
Gaming Chairs for Big Guys: Top 3
Taking all that into account, these are the Top 3 best gaming chairs for big guys right now:
1. DXRacer King Series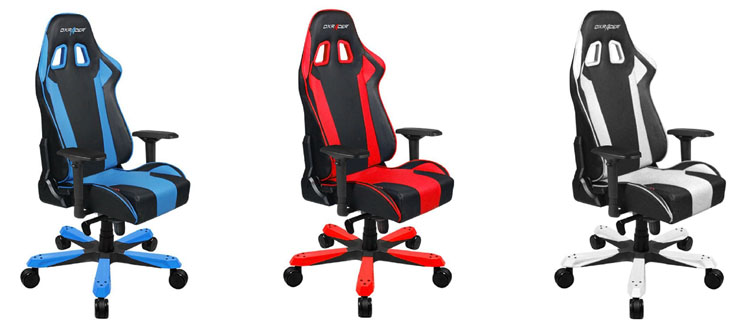 The most ideal and obvious choice as a gaming chair for big guys is the DXRacer King Series. It is a truly gigantic chair in DXRacer's lineup and one of the biggest (if not the biggest) on the market. Despite the steel framework every DXRacer has, the King Series features an extra reinforced aluminum base. The seat is extra wide, so also bigger gamers will have enough space on it – and the cushioned armrests are another nice addition. The DXRacer King Series is designed for gamers up to 6'3" and 300lbs which is way higher than regular gaming chairs. Although it's not the most inexpensive gaming chair on the market, it is definitely worth the invest.
2. DXRacer Sentinel Series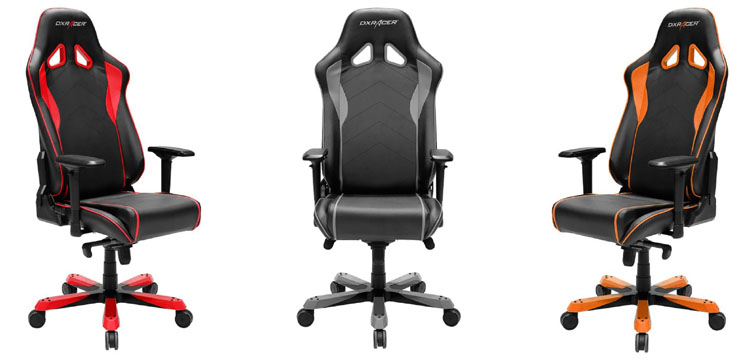 If you're playing in the NBA, the DXRacer Sentinel Series is a great choice for you. It is tall, very tall – so everyone who is tall (up to 6'5") fits perfectly on it due to the super high back rest. The seat is also a bit wider and has additional cushioning to provide extra comfort – same goes for the arm rests with additional padding. With the steel framework and the extra wide aluminum base the Sentinel Series can accomodate gamers with a weight up to 350 lbs / 160kg – perfect for bigger and heavier guys! It still offers all the features of every DXRacer, for example two additional pillows and a super flexible back rest. The Sentinel Series is available for under 500 USD right now, so you should grab one while they are that inexpensive.