One of the questions that we get asked the most is:
'How do I get a DXRacer Sponsorship?'
The reason is simple: while DXRacer gaming chairs are obviously pretty awesome, they are also not cheap – and very often gamers just can't afford to spend 300+ dollars on their favorite DXRacer model. And obviously, DXRacer heavily invests into marketing their chairs – which is why you see them so often in streams of huge eSports events. But how do you actually get a DXRacer sponsorship, and where do you apply?
DXRacer Sponsorships: The Basics
Sorry to burst a bubble right at the start, but DXRacer won't just send an expensive gaming chair to you if you're just a good gamer with nothing else to offer. Every chair they give away has to offer a certain return – may it be reach on Twitch, fans on social media, good brand affiliation, revenue for additional chairs sold and so on. If you don't have anything to offer, you'll always have to go the standard route and just buy your chair. The folks at DXRacer run a business (just like any other gaming chair company) and don't want to lose money on random chair giveaways. In short: if you don't have anything to offer in return, you probably won't get a DXRacer sponsorship.
'But what do you need to offer' you ask? It's easy: reach! No matter if you're doing YouTube videos, streaming or you're even a member of an aspiring esports team – anything that allows other people to see your chair in use will help. That's why the two big ways of getting a DXRacer sponsorship are streaming or being a professional eSports team.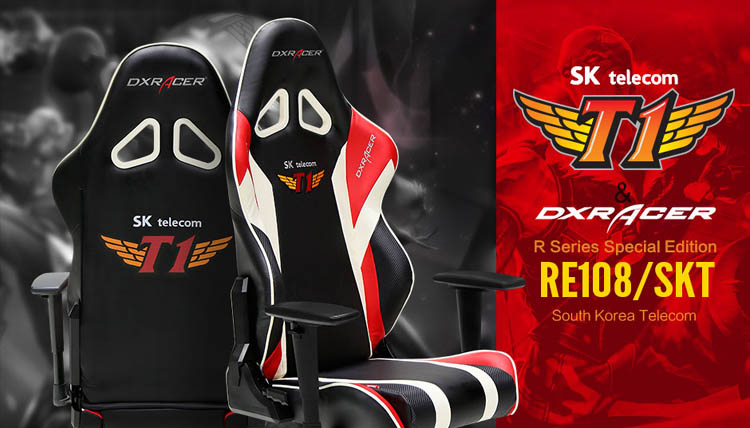 DXRacer Sponsorship Option #1: eSports Teams
The most prominent and extensive sponsorship options are for eSports teams that compete on the highest level. It doesn't matter which game, but being good and playing on major eSports tournaments is certainly the biggest requirement. DXRacer benefits from your players streams on Twitch, exposure through your website and maybe another shout-out on the team jerseys during a tournament. This applies only to the top teams in each game though, because the exposure would be too low otherwise. If you're big enough though, get in touch with the DXRacer branch in your country and see if they are interested.
DXRacer Sponsorship Option #2: Streamers
Twitch might be the platform where gamers see the highest density of DXRacer chairs, as a lot of streamers have sponsorships. The reasons are obvious, as thousands of viewers see their favorite streamer use a specific gaming chair (and maybe buy the same one afterwards). It is still hard to get a DXRacer sponsorship though, as you need a certain reach and followership for that; if you're only streaming in front of 100 viewers, your reach is just too low. When you have a bigger followership, try to create a bullet point list of your reach on all platforms (Twitch, Twitter, Facebook, YouTube…) and approach your country's DXRacer branch with these numbers. That way it is way easier for potential sponsorship partners to determine if it's a good fit for both.
Good luck!