If you've ever seen bigger eSports tournaments or famous streamers on Twitch, you might have seen what all of them have in common: they sit on pretty fancy (and often colorful!) gaming chairs, that are reminiscent of racing seats in motor sports. Especially during the LCS in League of Legends or Majors in CS:GO you see these chairs on stream and maybe feel the urge to get one as well.
But: what brands are these gaming chairs, how good (…and how much) are they and which one is the best for you to get? You'll get the answer to all these questions in this guide to the best gaming chair 2017!
Well – why do you need a Gaming Chair?
Most gamers love to spend money on all things related to their rig: pricy CPUs, high-end graphic cards, mechanical keyboards – you name it! But: even though most of us spend hours and hours per day in front of the PC, we don't even think once about spending bigger bucks on the chair we're sitting on for all these hours. As I'm a little bit older than most gamers: do your back a HUGE favor and think about getting a proper gaming chair. Even though they might look pricey first, they're definitely worth the cost if you think about how many hours you sit on them. If you don't think that's important, your back in 5 years time might want to have a word with you (believe me, I've been there).
What makes the Best Gaming Chair?
So, what actually makes a proper gaming chair? Besides the looks (which should only be a minor factor), these are the four key points to look out for:

| Feature | Explanation |
| --- | --- |
| Sturdiness | Gaming chairs have to carry a lot of weight for a very long time each day, which means that any weak spots or flaws in a chair's design will over time make the whole thing squeak or rattle – or in the worst case, even break. |
| Quality | When you take a closer look at the quality and craftmanship of a lot of chairs, then there's some really bad things to be seen: weak plastic parts, low-quality seams and bad faux leather – the list goes on, even if most of these things might not be super obvious for inexperienced buyers. |
| Features | A chair is a chair, right? Nope, there are huge differences when it comes to the features a good chair can have. High-quality chairs can be adjusted in a gazillion of different ways (okay, maybe a gazillion is a bit exaggerated). |
| Perfect Fit | The most important point: you should NOT just buy any random chair that looks good. Every chair is designed specifically for a certain body type, and you should definitely find e.g. the right chair for you by using my DXRacer guide. |
Top 3: Best Gaming Chairs 2017
Taking all these things into account, these are the top 3 best gaming chairs in 2017:
#1: DXRacer Iron Series

Comparing the build quality of current companies on the market, my number one has to be a DXRacer due to their robustness, awesome build quality, top-notch features and super sleek design. The only question is: which of the many DXRacer series is the best one? Looking at all the features and how DXRacer chairs have evolved over the last years, I'd definitely choose the Iron Series! Even though it's not the most inexpensive one out there, it's definitely the best gaming chair 2017 for me due to some sweet extra features: the Iron Series has a reinforced aluminum base that will withstand even the heaviest gamers, and added cushioning for that additional comfort. This one will last a lifetime!

| More Info | Seat Width | Max. Height | Weight Limit | Price |
| --- | --- | --- | --- | --- |
| Iron Series | Wide | 6'3" / 1.90m | 300 lbs | 449 USD |
#2: DXRacer Racing Series

If your budget is a bit tighter but you still don't want to give up quality, the DXRacer Racing Series is the best gaming chair for you. It's the chair of choice for multiple eSports leagues throughout the world, like the Korean LCK or the NA/EU LCS in League of Legends. For just under 300 USD you'll get all these great features that DXRacer chairs are famous for: a rock-solid steel framework, super-comfortable cushioning with fabric or artificial leather, an ergonomically shaped back rest and seat, as well as a recline up to 135 degrees. The DXRacer Racing is a 'classic' already, and definitely one of the best gaming chairs you can get in 2017!

| More Info | Seat Width | Max. Height | Weight Limit | Price |
| --- | --- | --- | --- | --- |
| Racing Series | Wide | 5'9" / 1.75m | 200 lbs | 299 USD |
#3: AKRacing Player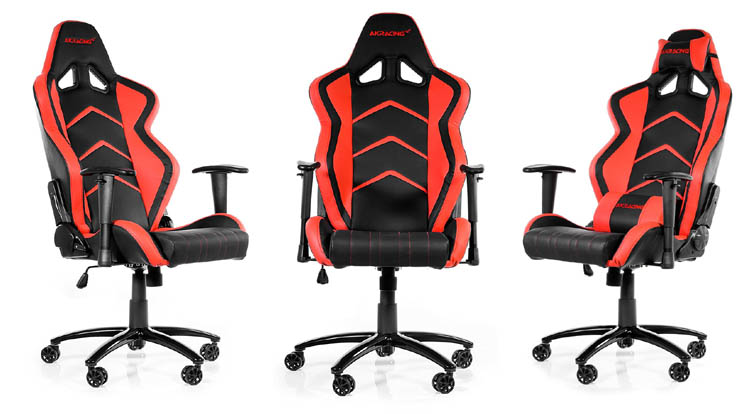 Of course there are also other companies out there that produce high-quality gaming chairs besides DXRacer. Sadly a lot of other, more inexpensive brands also have quite a sub-standard quality level for their chairs – which is not super obvious for inexperienced buyers. Besides Maxnomic and noblechairs, we found AKRacing to have some of the best gaming chairs on the market right now. Finding the best AKRacing chair is not as hard though, as the various series are not that different from each other. All of them have similar features like DXRacers, like a super sturdy steel framework, a 120 degrees recline and two included extra cushions if needed. From our experience though, the AKRacing Player Series is the one we love the most as it offers a sweet design on its faux leather cover on top of that, great features for the average-sized gamer and a pretty low price as well.

| More Info | Seat Width | Max. Height | Weight Limit | Price |
| --- | --- | --- | --- | --- |
| | Medium | 6'3" / 1.90m | 330 lbs | 349 USD |
Special Chairs:
If you don't have an average body size, you should definitely not buy just any gaming chair off the rack that looks cool. Here's some great recommendations for different body sizes:
Gaming Chair for Heavy Persons:

If you're a bit heavier, a lot of common gaming chairs might not be sturdy enough for day to day use. There are specialized gaming seats out there that support higher weight limits than the ones mentioned above. We'd recommend the DXRacer Tank Series (up to 450 lbs) or DXRacer King Series (up to 300 lbs) as the best gaming chair for heavy persons.

| More Info | Seat Width | Max. Height | Weight Limit | Price |
| --- | --- | --- | --- | --- |
| Tank Series | Wide | 6'7" / 2.00m | 450 lbs | 579 USD |
Gaming Chair for Tall Persons:

Taller gamers might be too tall for the chairs mentioned above, so e.g. the headrest might be too low. Great gaming chairs for tall persons are e.g. the DXRacer Tank Series and DXRacer Sentinel Series, as they have higher back rests.

| Model Name | Seat Width | Max. Height | Weight Limit | Price |
| --- | --- | --- | --- | --- |
| Sentinel Series | Medium | 6'5" / 1.95m | 350 lbs | 479 USD |
Conclusion: The Best Gaming Chair 2017
Yes – proper gaming chairs are not super cheap. But: you should definitely think about all the hours you will spend on that chair, and how bad a sub-standard gaming chair could be for your back long-term. Trust me: spending some extra bucks on a proper gaming chair like the ones recommended above will definitely be #worth in the long run.